About First Pacific Bank
Investor Relations
At First Pacific Bank, we are focused on supporting our client's needs and connecting them to even greater opportunities across Southern California.
Corporate Profile
---
First Pacific Bank, a wholly owned subsidiary of First Pacific Bancorp (OTC Pink: FPBC), is a growing community bank catering to individuals, professionals, and small-to-medium-sized businesses throughout Southern California. With a history that spans 17 years, the bank offers a personalized approach, access to decision-makers, a broad range of solutions, and a commitment to delivering an exceptional customer experience. First Pacific Bank operates locations in Los Angeles County, Orange County, San Diego County, and the Inland Empire. 
Market Makers
Troy N. Carlson
D.A. Davidson
75 West Front Street, Suite 5
Red Bank, NJ 07701
856-994-6056
Jacob Forney
Raymond James
One Embarcadero Center, Suite 650
San Francisco, CA 94111
800-800-4693
Market Ticker Symbol
The common stock trades on OTC Markets (OTC Pink) under the symbol FPBC.
---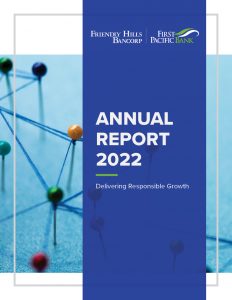 2022 Annual Report
Download the Annual Report: Delivering Responsible Growth
Contact Information
Nathan Rogge
President and
Chief Executive Officer
James Burgess
Executive Vice President /
Chief Financial Officer
Petra Schmischke
Vice President /
Executive Assistant
Security Warning: Emails sent to First Pacific Bank are not encrypted. Sensitive information such as social security numbers, account numbers or other specific identifying information should not be transmitted via email.
Sign Up for Investor Email Alerts